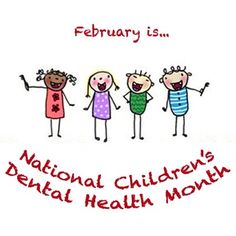 Dr. Sonal Shah and Dr. Max Auer invite you to join us as we celebrate National Children's Dental Health Month.  During this month we are working with the schools in Macomb, Wayne and Oakland counties to provide fun and informative presentations to children of all ages.  We encourage parents to take extra time this month to remind  children the value of keeping their smiles healthy.
Here are a 8 steps to a healthy smile:          
Your baby should never go to bed with a nursing bottle, containing mike or juice.

Your child should eat a balance diet to build strong bones and decay-resistant teeth.

Limit your child's snacks-no more than once a day.

Have your child brush twice a day, after breakfast and before bed.

Make sure your children is getting enough fluoride through drinking water.

Your child should have an orthodontic evaluation by age 7.

Sealants should be applied to the chewing surfaces of your child's permanent back teeth.

Visit our office regularly.  Pediatric dentist are the pediatricians of dentistry.  We are dedicate to the attainment of excellent oral health in children from infancy through adolescence, and promote a positive attitude toward dental health.
Call our office right away to make your child's Healthy Smile Visit!  586-754-6300
For additional information visit Michigan Dental Association's Smile Connection at:
http://smilemichigan.com/The-Smile-Connection/ID/1957/Concerns-of-Infants-and-Toddlers