Testimonials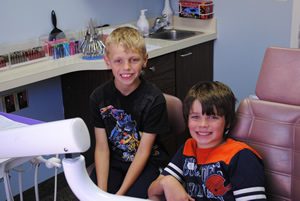 Patients and parents of Pediatric Dental Center would like to share comments about their visit. We take pride in making every visit to our office a positive experience!
Patients and parents of The Pediatric Dental Center would like to share comments about their visit. We take pride in making every visit to our office a positive experience!
10/25/17
Jennifer D. father, comments-
Doctor Shah is a wonderful and professional dentist. She is very polite and courteous. She always takes good of her clients. So I took my daughter to checkup after the surgery. Dr. Shah was very sincere that she even call my cellphone to see if my daughter was doing ok on a Sunday! So I'm very pleased and happy with their service. The staff was very kind and the place very clean. I would recommend this place to everyone. Thank you Dr. Shah!
05/04/2017
Randi H. Comments-
"My youngest daughter needed pretty extensive work done to her teeth. We had gone to another dentist, but it was beyond their expertise and suggested we go to a pediatric dentist. I brought them to PDC Warren because it is where I went as a child. It turned out that my daughter needed some oral surgery done. The dentists, hygienists and staff went above and beyond – especially when the hospital messed up the schedule and we had a whole ordeal with trying to get a scheduled surgery at the last minute! Like, the night before!! It was chaos! Even though it was a bit of a hassle, and we were all cranky (more so from hunger than anything, I'm sure, since my daughter wasn't able to eat from midnight the night before and they didn't get her into surgery until 4pm! We didn't want to eat in front of her, so we didn't eat either!), both the hospital nurses/doctors and the staff of PDC did a phenomenal job! They never even complained when it was obvious the ordeal kept them there longer than normal as well! All three of my daughters now go to PDC! I highly recommend PDC Warren!"
03/16/2017
Dawn B. Comments-
"My girls love this place. We started coming at ages 2, 4, and 6. Every time we have appointments they are giddy and excited to come. We've even had fillings done in each of them and they still always want to come back! They are flexible and kind to me as a mom with a no fluoride request and even recognize that some children have red dye allergies. The office ladies are even open to essential oils. Definitely love this place."
03/07/2017
Missy M. Comments-
"Very good with the kids. A bit of a wait. Not enough hygienists on at all times."
02/09/2017
Tina P. Comments-
"We've been coming here for years. Everyone is friendly and are gentle with everything we've had done. Ms. Betty is Amazing!!!! My girls love her!!!"
07/19/2016
Kristol Q. Comments-
"I have a 8 yr old and 5yr old that have needed a lot of dental work done…our experience with pediatric dental center on Ryan rd has been extremely pleasant! The friendliness of all the staff makes my babies feel at ease…which is so important!! Thank you for always being available and taking special care of my babies precious teeth!! :)"
8-7-13
By far, this office has the friendliest staff and doctors I have ever met. My experience throughout my treatment was amazing. Dr.Holzimmer treated me not only as a patient but as a friend. He is very talented and puts his time into his work. His staff welcomes you with a huge smile every time you come in. I am very pleased with the end result of my treatment. I would definitely recommend Dr.Holzimmer to anyone I know.
~ Suzzanne's Mom.
8-2-13
There is nowhere I would have rather gotten braces than through the Pediatric Dental Center. Great people and great skills !! My sister and I both got our braces on by Dr.Holzimmer and we couldn't ask for anything better, I recommend him to everyone ! Thank you Pediatric Dental Center.
~ Michelle's Mom.
7-11-13
I am so happy ! They had great service ! I loved the people they have here ! They did an amazing job on my teeth. Thank you so much ! Thank you so much Dr.Gerald Holzimmer, you are great !
~ Jenna's Mom
6-19-13
Rachel was here today to get her braces off and she was very excited !! Dr.Holzimmer had the pleasure of treating Rachel for both phase I and phase II orthodontics.
Rachel was very sweet to leave this note for us " I am so excited today as I am getting my braces off ???? My favorite assistant Carla was always there for me at every appointment and even assisted in removing my brackets at my final appointment ! It's been a great journey with the pediatric dental crew, and I enjoyed every minute".
Thank you Rachel and we are excited that you are enjoying your new smile ????
Dr. Holzimmer and Staff ????
6-5-13 Nicholas's Visit:
My son's visit at the Pediatric Dental Center was very good. Dr,Shah was very professional and explained everything thoroughly.
Nicholas's mom.
6-4-13 – Brendan's Visit:
Brendan has been a patient at Pediatric Dental Center for over 15 years. Ms.Betty has been cleaning his teeth with TLC every visit. Brendan recently won the gold medal at the Special Olymics State Games for bocce doubles.
Brendan's Mom.
Nicholas's Visit (trauma patient) 4/15/13
"I was and am very impressed w/ Nick's care today. The staff is wonderful and made Nicholas feel very comfortable. His new teeth look fantastic."
-Nicholas' Mom, Melissa
Giuseppe's visit 4-10-13
"This staff is awesome!"
-Giuseppe's mom
Wynter's Visit 6-27-12
"Another wonderful visit to the dentist. My daughter loves coming here! Thank you for the great service."
Wynter's mom, Jessica
Gabrielle and Hudson's experience, 2-8-13
"Hudson (2) and Gabrielle (5) love coming to PDC. The staff work well with children to ensure their comfort. My children's favorite part are the toy, sticker, and balloons they receive following their dental visit. My favorite part is their affordable options. Thanks PDC for the great care you give my family."
Hudson and Gabrielle's mom-Amanda
Emily, a patient of 16 years! 2-5-13
"After 16 years of being a patient of Pediatric Dental it is time to say goodbye. I started coming at the age of 18 months when I chipped my first tooth. They have been like a family and have taken care of my teeth, with my help of course, for many years.They have seen me through braces and yes a couple of cavities, but all in all its been a great experience. They have great hygienists – Betty thank you for all your yrs. of taken care of me. You all will be missed."
Emily
Lily's Experience 12-12-12
"My daughter had to have oral surgery with Dr. Shah who was fantastic. The amount of self confidence that my daughter gained from her new teeth was amazing!"
Lily's mom, Erin
Zack and Mallory's Visit 6-20-12
"The kids love coming to the Pediatric Dental Center 'cause all the hygienists are so nice and they get toys and balloons. Thanks for doing such a great job!"-Zack and Mallory's mom Laura
April 2012 Scott's Visit:
"Scott loves going to the dentist, he is always excited to come back. I'm glad we found this dentist, the people are very nice!"
3-21-12- Carynne's Visit:
"My daughter and I love the Pediatric Dental office. They have always been so kind and friendly to us. I recommend this office everywhere I go. She (at least I never hear her cry) and she is always smiling when we leave. Kudos to the entire staff :)"
-Carynne's mom Tonice
3-2-2012- Corey's Visit: Corey was a 1 year old new patient to our practice!
" This is the fastest dentist appointment I have ever been too!"
-Corey's mom Wendy
02-7-2012- Layla's Visit:
"Everyone was so helpful. Both my girls loved & felt comfortable with the staff, and my 4 year old can't wait to come back to get her teeth fixed. Will be recommending this office and will be ending my search for a great dentist! Thank You!"
– Layla's mom Samantha
02-9-2012- Kaitlyn's Visit:
"My daughter Kaitlyn is a patient at Pediatric Dental Center. Kaitlyn is 3 years old and like most children her age, she was extremely nervous about going to the dentist. She had several appointments and during each visit the staff was very comforting. The care and concern shown by everyone at Pediatric Dental Center was outstanding. To say that Kaitlyn's experience was great would be an understatement. Needless to say, she now has a perfect smiles thanks to Pediatric Dental Center."
– Kaitlyn's mom Dawn
Office Hours
Mon - 8:30am - 5:00pm
Tue - 8:30am - 5:00pm
Wed - 7:30am - 3:30pm
Thu - 8:30am - 5:00pm
Fri - Selective Fridays
Sat - Selective Saturdays
Sun - Closed